Our range of flooring services includes fitting and restoration of various types of wooden flooring.

Our Services
Parquet Floor Fitting and Supply of Parquet Flooring

Solid Wood Flooring Installation

Engineered Wood Flooring installation

Concrete Sub-floors Levelling

Damp Proofing and Sound Proofing

Skirting Boards or Beading Installation

Doors and Door Frames Trimming
Our Aspects on Wood Floor Fitting
One of the most integral aspects of the wood floor installation is proper sub-floor preparation. Before getting down to the wood floor fitting your new floor, there are things that need to be done to ensure proper and lasting floor installation.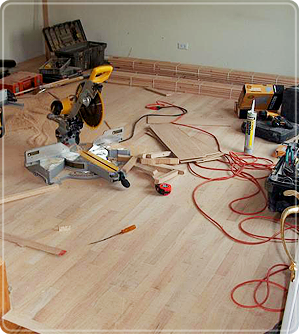 Dust Control
Dust is one of the major problems and needs to be addressed, before the floor layer begins. On one hand, this means properly dusted sub-floors – cleaning is important so proper adhesion is achieved. On other, the adjacent rooms, their furniture and etc. needs to be protected and sealed off. We take pride in using wood floor fitters equipment on the cutting edge of technology that is almost entirely dust free, but still, a minor amount of dust particles will be eventually released, so there is no such thing as being too careful.
Increased Level of Moisture in the Air & Sub-floors
Moisture is the major reason behind unsuccessful floor installations. It needs to be properly taken care of or you are running the risk of ending up with a damaged flooring and sooner than you may think. The issue relates to several different things. First, the sub-floor must be clean and dry, second the flooring itself needs to acclimatize to the local moisture and temperature in your house and third, you need to make sure the pipework is in proper condition. Finally, it´s recommended that the temperature is around 18C and the relative humidity 30-60%.
Going for Sub-floor Preparation
The sub-floor have to be clean, levelled, sound and dry. All debris and dirt should be removed, not only because it create unevenness, but also because it may react with the wood flooring adhesive, leading to deflection and loose flooring. The floor must be flat to industry standards and they provide very specific values. Underlay is of great importance, especially with floating floor installation, since it helps to obtain even surface and reduce sounds of footsteps.
In the case of wooden floors that are generally hard, it's better that a shock-absorbing underlay is installed.
Finally, the sub-floor must be covered with a damp-proof membrane – it will protect the flooring against moisture.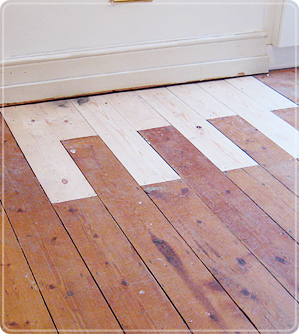 Doors / Door Frame Trimming
Doors of the rooms where flooring will be installed need to be removed and stored in a safe place until after fitting has been completed. You also need to choose whether to have the flooring installed around the door trim or get the latter cut under and the flooring inserted underneath.
Our Methods of Wood Floor Installation
Floating
In this type of wood floor installation, popular with engineered wood flooring and laminate floorings, the floors planks can fit / click together directly without gluing or nailing. That type of floor fitting, not bonded directly to the sub-floor, allows installation of specific types of underlay – for sound insulation or damp insulation. Each plank connects to the others through grooves and tongues, much like the pieces of a jigsaw puzzle. This method allows installation of floors over surfaces that are not and for some reason, cannot be made perfectly flat.
The Junkers Way
This type of installation is typical for Junkers wood floors only. It has been invented by the company as an alternative to the floating floor fitting, which allows damp proofing insulation or wood floor sound proofing insulation to be placed below the flooring, regardless of the sublfoors structure – concrete, battens or wooden flooring. It uses metal clip system which holds each 2 planks in a pair.
Using Professional Wood Floor Adhesives
Gluing down with a professional wood floor adhesive can sometimes be the only way of installing wooden flooring. This will be when installing wood floors on concrete or onto sub-floors with possibility of running pipes below. To be on the safe side we have to go for installation with wood floor adhesives. This method is appropriate as well for parquet floor fitting or deco / pattern floorings.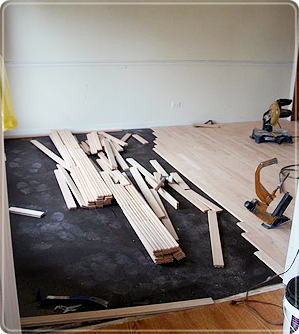 Nailing Down
The name says it all. Nailing gives you a deck-like style floor. Generally speaking, whether you opt for a glued or nailed floor is a matter of personal preference, except for the rare cases when the wood type requires nailing rather than gluing. Using nails to fasten down the flooring is advisable in the case of hardwood with thickness of about 3/4 of an inch. Getting the flooring stapled down in place is just another type of nailing. The advantage of having your floor stapled down is the process is easier and much quicker and is vastly preferred.
To arrange a free quote, simply fill out this form, and we will get in touch with you today.