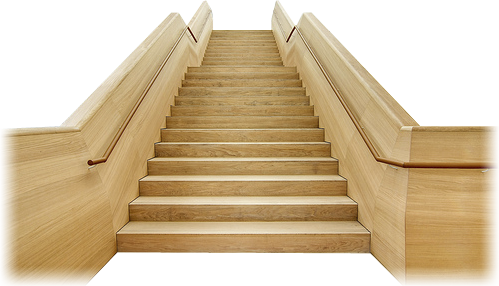 A natural wood staircase can be the stunning centrepiece of any home. Many, however, are hidden beneath layers of old carpet and linoleum. Generations just keep piling on the paint, carpeting and vinyl, obscuring the beauty that lies beneath. Stairs are almost always one of the most high-traffic areas in your home. Normal usage will eventually break through even the hardiest finish. Over time, you'll begin to notice grooves, scratches, splinters, scuff marks and other evidence of daily wear. Staircase Refurbishing is a lot of work, but the results are spectacular and well worth the effort.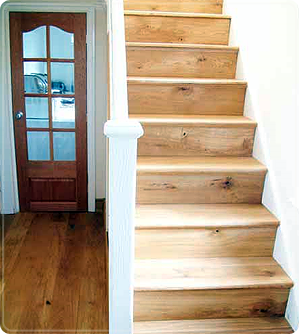 A Perfect Staircase Refurbishment
Because stairs are usually enclosed in a narrow area, we do much of our work by hand. We begin by thoroughly cleaning and polishing the surfaces. This allows us to make a complete assessment of all cracks, warping, and any heavily damaged areas that may need replacement. After establishing the overall integrity of the structure, we will proceed to sand the treads and risers. By removing all of the old finish, we reveal the natural wood that lies beneath. Careful sanding gets rid of any stains and blemishes that may have penetrated through the original finish. The grain then looks as good as new.
Once our workers complete the sanding and remove all marks, they will fill any cracks or gaps, creating a smooth and uniform surface. Then they will replace any pieces that cannot be repaired, as a perfect match ensures that new materials won't be visible once the finish has been applied.
For the final step, we apply a stain and sealer, protecting your newly finished stairs for years to come. You may then complement your stairs with a carpet runner or leave them in their polished state. You'll see no more cracks, splinters or unsightly marks.
Stairs come in all shapes and sizes. We can restore them to their original splendour whether you have a straight rise, spiral or contemporary design. Our craftsmen pay meticulous attention to every inch of wood, restoring the aesthetic beauty of your staircase. The finished product is both safe and functional.
Benefits of Restoration Over Replacement
Taking the time to refurbish your existing stairs can be much more cost-effective than replacing the entire structure. A well-executed restoration maintains the original look and design of your home. Natural wood never loses its appeal and won't fall out of fashion in the years to come. Wood doesn't chip as easily as other synthetic materials and is also much easier to clean and maintain.
Talk to us before you go to the trouble and significant expense of replacing your worn stairs. Restore their authentic beauty with a professionally executed refurbishment. We will also provide you with a comprehensive quote that details exactly what we will do. The right combination of quality materials and pride of workmanship guarantees outstanding results.